For the first time in two years, people were able to gather once more in-person for the Materials Science & Technology technical meeting and exhibition.
[Image above] Attendees gathered for an informal networking reception sponsored by GE Global Research and hosted by the ACerS Diversity & Inclusion Subcommittee to encourage engagement with the new ACerS Diversity & Inclusion Member Community. Credit: ACerS
MS&T is an annual event cohosted by The American Ceramic Society, The Minerals, Metals & Materials Society (TMS), and the Association for Iron & Steel Technology (AIST). In 2020, MS&T had to take place virtually due to the COVID-19 pandemic, but this year the three societies were thrilled to welcome everyone to downtown Columbus, Ohio, on Oct. 17–20, 2021.
More than 1,000 people registered to attend MS&T in-person, plus just under an additional 500 registrants signed up for the virtual On-Demand option. Students impressively accounted for about 40% of the registrations.
"We were very pleased to be able to convene over 1,000 people in person in Columbus, Ohio. Although we definitely missed many of our international members who were unable to attend due to travel restrictions, we found it extremely rewarding to be able to reconnect with our community. We are looking forward to future meetings when we can convene our global community," says Mark Mecklenborg, ACerS executive director.
In addition, "I am thrilled that next year there will be significant changes to the MS&T exhibition as we co-locate with the Advanced Materials Show and the Nanotechnology Show. We believe that this development will strengthen our exhibit presence while we continue to provide a great technical program," Mecklenborg adds.
Below are highlights from ACerS 123rd Annual Meeting at MS&T21.
Diversity and inclusion shine at ACerS Annual Meeting
Diversity and inclusion were topics that came up consistently throughout the four-day conference.
During ACerS Annual Business Meeting on Monday, Oct. 18, outgoing ACerS president Dana Goski overviewed the details of ACerS' new strategic plan, which will guide the Society in the coming years. One of the main goals is to expand ACerS' global culture of inclusion and actively working to develop membership within underrepresented groups.
The Society is already taking several steps toward this goal. For example, the new Diversity & Inclusion webpage provides members a transparent account of all ACerS' ongoing diversity, equity, and inclusion initiatives. In addition, the Society welcomed two new Sections (Southern California and Eastern Tennessee) and a new Chapter (Japan) during the past year, allowing for increased engagement with members in these geographical areas. The Society also expanded its online learning course program to help engage and train the next-generation ceramic workforce. Plus, the Society plans to add a new Diversity, Equity, and Inclusion position to each of its committees.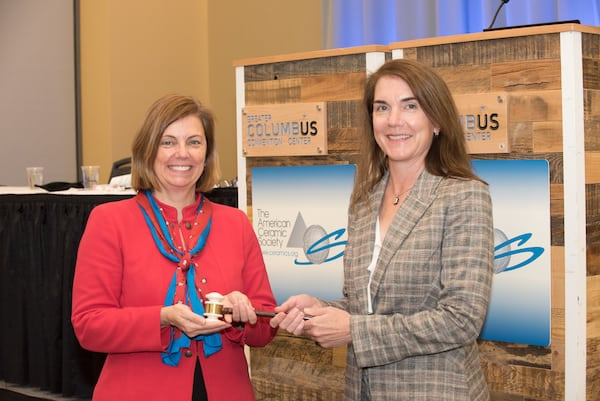 The Society's commitment to diversity and inclusion is also evident through two events that took place during the Annual Meeting.
On Sunday, Oct. 17, attendees gathered for a Women in Materials Science Reception sponsored by Elsevier. Leaders from ACerS, TMS, and AIST spoke about the initiatives that each society is implementing to support diversity and inclusion in their communities.
On Tuesday, Oct. 19, attendees gathered for an informal networking reception sponsored by GE Global Research and hosted by the ACerS Diversity & Inclusion Subcommittee to encourage engagement with the new ACerS Diversity & Inclusion Member Community. ACerS D&I Subcommittee chair Ryan McCarty encourages members to email him at rmccarty@uci.edu to learn how to become more involved with the Community.
Award lectures push the boundaries of next-generation technology
Several notable Society and Division award lecturers are delivered at ACerS Annual Meeting each year. This year, the awardees shined a light on several next-generation technologies that are poised to revolutionize the ceramic and glass industry.
The Navrotsky award lecture on Monday, Oct. 18 by Xin Qian of the Georgia Institute of Technology discussed the development of solar-driven fuel production as an alternative to reliance on fossil fuels. Qian's talk was followed later in the day by the Friedberg Ceramic Engineering lecture by University of Virginia professor Beth Opila, who overviewed the increasing use of environmental barrier coatings in aerospace applications.
On Tuesday, Oct. 19, Penn State Materials Research Institute director Clive Randall presented the Edward Orton, Jr. Memorial Lecture during the morning plenary session, providing an overview of the nascent processing technique of cold sintering. The final award lecture—the Sosman Award—took place Wednesday, Oct. 20, and Technion – Israel Institute of Technology professor Wayne D. Kaplan presented on combining atomistic and continuum approaches to understanding ceramic interfaces.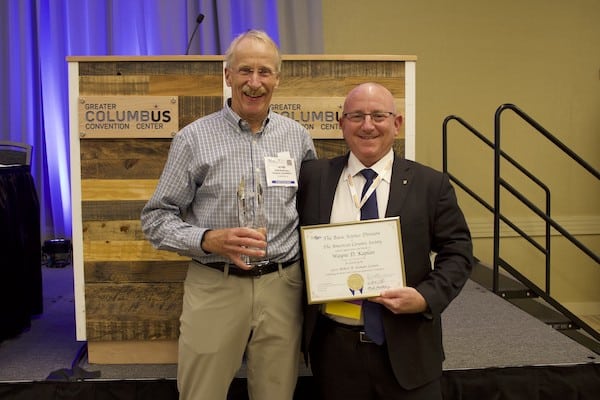 The winner of this year's Rustum Roy Award, Fraunhofer IKTS president and TU Dresden professor Alexander Michaelis, and Cooper Distinguished Speaker Award, National Hellenic Research Foundation Theoretical and Physical Chemistry Institute director of research Efstratios I. Kamitsos, unfortunately were unable to attend in-person. Fortunately, meeting organizers arranged for a recording of their lectures—on advanced ceramics for energy and environmental technology, and structure and ion dynamics in glass, respectively—to be played instead.
Strong student presence reflects engagement of the next generation
As noted in the introduction, students accounted for almost 40% of attendance at MS&T21, with more than 380 attending in-person and 185 attending through On-Demand. They participated not only as attendees in the sessions but as presenters, speakers, and competitors as well. The pictures below demonstrate several of their accomplishments. View a full list of student award winners at this link.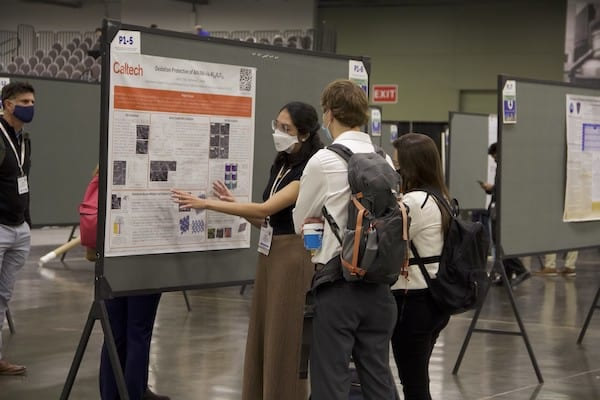 Celia Chari of the California Institute of Technology, pictured, won first place in the Material Advantage Graduate Student Poster Competition. She is also the new chair of the ACerS President's Council of Student Advisors Communications Committee. First place in the Undergraduate Student Poster Contest went to Amelia Martinez of the University of Missouri Science and Technology, while first place in the Undergraduate Student Speaking Contest went to Alison Nunes of the University of Illinois, Urbana-Champaign.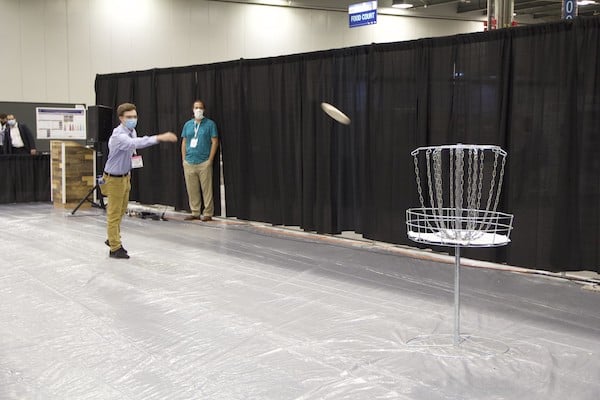 Students from several universities participated in the annual ceramic mug drop and disc golf competitions. Pictured is Camden Holloway of Virginia Polytechnic Institute and State University, winner of the disc golf event. Sophie Grier of Missouri University of Science and Technology won the mug drop. The mug drop and disc golf events also featured an aesthetic category, which were won by Elliot Sutalski of Missouri University of Science and Technology (mug, in-person), Claire Pallett of the Missouri University of Science and Technology (mug, virtual), and Jacob Stacy of the Missouri University of Science and Technology (disc, virtual).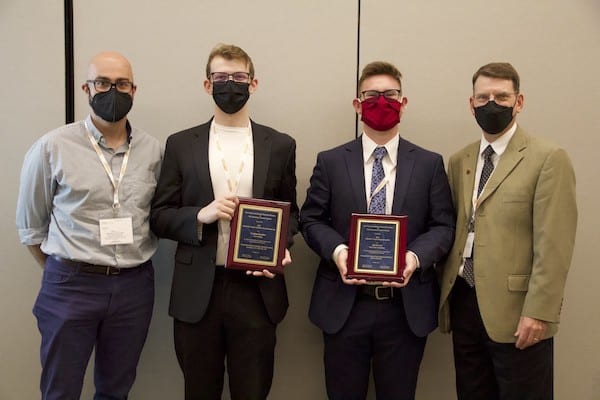 This year's Alfred R. Cooper Scholars Award premiered a new format. Instead of an award session that invited several distinguished lecturers to present, three undergraduate students were recognized for their work and presented alongside the winner of the Cooper Distinguished Speaker Award. Pictured are the first and runner-up winners of the Cooper Scholars Award along with their mentors: Jacob Lovi of Iowa State University with Steve Martin on the right, and Graham Beckler of Coe College with Caio Bragatto on the left.
Visit the ACerS Flickr page for more photos from ACerS Annual Meeting at MS&T21. Pictures from the Awards Banquet will be available in a week. Next year, ACerS 124th Annual Meeting at MS&T22 will take place in Pittsburgh, Penn., from October 9–13. We look forward to seeing you then!